Power your paddle sports with three great exercises
A common virus may be one contributing cause of multiple sclerosis
Tick season is expanding: Protect yourself against Lyme disease
Moving to wellness while practicing body neutrality
Primary progressive aphasia involves many losses: Here's what you need to know
Healthy oils at home and when eating out
Enjoy avocados? Eating one a week may lower heart disease risk
Save the trees, prevent the sneeze
When is a drug rash more than just a rash?
New treatment approved for late-stage prostate cancer
Exercise & Fitness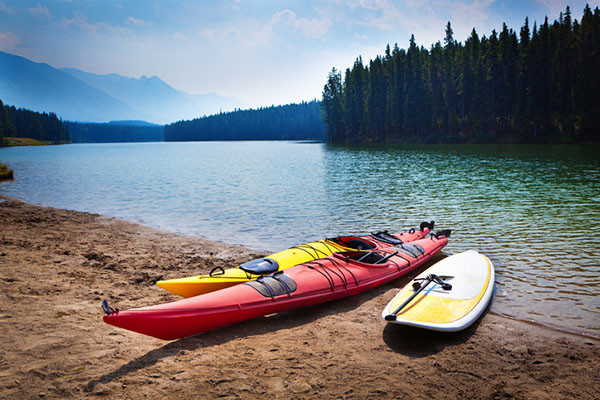 For my birthday last year, I received paddleboard lessons. I was always curious about the popular water sport and watched in fascination as people stood on almost-invisible boards, paddling along as if walking on water.
Paddleboarding was everything I expected and then some. Still, I quickly realized that it is a serious workout, like all paddle sports, such as kayaking and canoeing. It may look effortless, floating along and casually dipping a paddle in water. But much goes on beneath the surface, so to speak. As warmer weather beckons and paddle season arrives, it pays to get key muscles in shape before heading out on the water.
"Paddling a kayak, canoe, or paddleboard relies on muscles that we likely haven't used much during winter," says Kathleen Salas, a physical therapist with Spaulding Adaptive Sports Centers at Harvard-affiliated Spaulding Rehabilitation Network. "Even if you regularly weight train, the continuous and repetitive motions involved in paddling require endurance and control of specific muscles that need to be properly stretched and strengthened."
While paddling can be a whole-body effort (even your legs contribute), three areas do the most work and thus need the most conditioning: the core, back, and arms and shoulders.
Many exercises specifically target these muscles, but here are three that can work multiple paddling muscles in one move. Add them to your workouts to help you get ready for paddling season. If you haven't done these exercises before, try the first two without weights until you can do the movement smoothly and with good form.


Muscles worked: Deltoids, obliques, rectus abdominis, erector spinae
Reps: 8–12 on each side
Sets: 1–3
Rest: 30–90 seconds between sets
Starting position: Stand with your feet about shoulder-width apart and hold a dumbbell with both hands. Hinge forward at your hips and bend your knees to sit back into a slight squat. Rotate your torso to the right and extend your arms to hold the dumbbell on the outside of your right knee.
Movement: Straighten your legs to stand up as you rotate your torso to the left and raise the weight diagonally across your body and up to the left, above your shoulder, while keeping your arms extended. In a chopping motion, slowly bring the dumbbell down and across your body toward the outside of your right knee. This is one rep. Finish all reps, then repeat on the other side. This completes one set.
Tips and techniques:
Make it easier: Do the exercise without a dumbbell.
Make it harder: Use a heavier dumbbell.


Muscles worked: Latissimus dorsi, deltoids, biceps
Reps: 8–12
Sets: 1–3
Rest: 30–90 seconds between sets
Starting position: Stand with a weight in your left hand and a bench or sturdy chair on your right side. Place your right hand and knee on the bench or chair seat. Let your left arm hang directly under your left shoulder, fully extended toward the floor. Your spine should be neutral, and your shoulders and hips squared.
Movement: Squeeze your shoulder blades together, then bend your elbow to slowly lift the weight toward your ribs. Return to the starting position. Finish all reps, then repeat with the opposite arm. This completes one set.
Tips and techniques:
Make it easier: Use a lighter weight.
Make it harder: Use a heavier weight.


Muscles worked: Deltoids, latissimus dorsi, erector spinae
Reps: 8–12
Sets: 1–3
Rest: 30–90 seconds between sets
Starting position: Lie face down on the floor with your arms extended, palms down, and legs extended.
Movement: Simultaneously lift your arms, head, chest, and legs off the floor as high as is comfortable. Hold. Return to the starting position.
Tips and techniques:
Make it easier: Lift your right arm and left leg while keeping the opposite arm and leg on the floor. Switch sides with each rep.
Make it harder: Hold in the "up" position for three to five seconds before lowering.
As a service to our readers, Harvard Health Publishing provides access to our library of archived content. Please note the date of last review or update on all articles. No content on this site, regardless of date, should ever be used as a substitute for direct medical advice from your doctor or other qualified clinician.
Post a comment: Log in and leave a comment of your own.
Exercise & Fitness
Exercise & Fitness
Exercise & Fitness
Get the latest in health news delivered to your inbox!
© 2022 by The President and Fellows of Harvard College
Do not sell my personal information | Privacy Policy
Thanks for visiting. Don't miss your FREE gift.
The Best Diets for Cognitive Fitness, is yours absolutely FREE when you sign up to receive Health Alerts from Harvard Medical School
Sign up to get tips for living a healthy lifestyle, with ways to fight inflammation and improve cognitive health, plus the latest advances in preventative medicine, diet and exercise, pain relief, blood pressure and cholesterol management, and more.
Health Alerts from Harvard Medical School
Get helpful tips and guidance for everything from fighting inflammation to finding the best diets for weight loss…from exercises to build a stronger core to advice on treating cataracts. PLUS, the latest news on medical advances and breakthroughs from Harvard Medical School experts.
BONUS! Sign up now and
get a FREE copy of the
Best Diets for Cognitive Fitness
Stay on top of latest health news from Harvard Medical School.
Plus, get a FREE copy of the Best Diets for Cognitive Fitness.